As a patient of Inflammatory Bowel Disease, have you ever felt lost?
What a ridiculous question. We've all felt lost at one time or another. Managing the chronic illness experience is confusing, time consuming, exhausting, and certainly doesn't come with a guidebook.
When we recently heard about Pack Health and their entrance into the IBD space, we were extremely excited to see someone else recognize this gap – this need for a guide – and put together a program that actually works to do it successfully. Pack Health works with IBD and other chronic illness patients to be strong partners in the patient experience.
The program works by matching you with an expert that's educated and experienced in navigating the specific challenges of IBD, and they do it at a professional level, so they can be trusted to provide reliable and accurate resources. This health coach connects you as a patient, to all the points you manage, and helps you get it all under better control.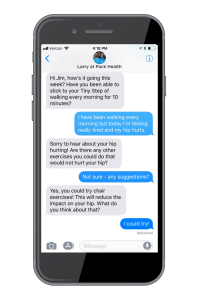 Their role is to relieve a number of burdens and confusion that are common to IBD patients – things like, answering questions when you just can't get in touch with your doctor, helping develop plans for treatment adherence and accountability, and even recommending local support resources.
Their goal is to fill that space as a guide in the journey, connecting the dots and filling in the gaps, so the whole experience is much more connected and navigable. They even help patients work on their general health, within the limits of their disease – so effective ways to exercise, and techniques to improve diet. This is especially important for IBD, when traditionally healthy diets are often off limits for us.
Pack Health Maps a Journey, Then Guides You There
What we really love about Pack Health is that they put their money where their mouth is. They don't just say that their health coaches will be there to help, and give you a call once a month to put a check box in the 'took meds' column (seriously, that's happened to us). What they've actually done is look at behaviors and techniques that are shown to be successful, and then created ways to help patients implement these to result in better outcomes of care. They do what actually works, and then guide patients in a way that's positive, supportive, and effective.
Both their metrics, and their current clients have good things to say, so we're excited to see them reach out to the IBD community and offer these benefits to us. Their website cites things like a 17% increase in medication adherence, and a 29% reduction in pain (This was for cancer patients. But look out pain, IBD is coming for you too). But we love this quote from MS patient Dorothy Q, as posted on their site:
"I love how she didn't just tell me what to do. She gave me a starting place and was with me every step of the way!"
We think this really shows that Pack Health understand what we need, and sticks by us throughout the journey. If you want to give it a try, visit their website: packhealth.com/ibd
Pack Health and this opportunity were brought to us through a sponsored partnership with WEGO Health. We value the trust we have with you, so we never highlight products, services, or companies that we don't believe in.