Thanks for stopping by. This sweepstakes is now closed.
---
Thank you for being a part of our IBD community. We're celebrating reaching 10,000 Facebook fans with our Buttload of Prizes Giveaway! You can earn up to 4 sweepstakes entries by responding to prompts on the social network of your choice. But first, check out this amazing prize pack!
Check out the IBD Prize Pack
One winner will be randomly chosen to receive this ENTIRE ridiculously awesome haul. Two additional winners will be randomly chosen to receive $50 Amazon gift cards. By the way, most of the prizes here were generously donated to this prize pack. To help say 'thanks', please consider supporting these companies through purchases and social engagement! Winners will be chosen on Dec 21, 2018.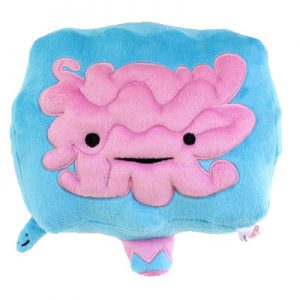 We don't even have to say anything about how awesome I Heart Guts is. Their intestines plush is a must-have for IBD patients, because, well, we can't think of a single reason not to have one.
Instagram: @iheartguts
Value: $25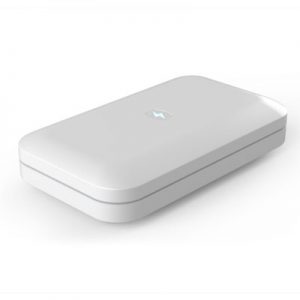 We'd be lying if we said we didn't spend some quality time with our phones in the bathroom. PhoneSoap uses UV technology to kill germs, the perfect technology for us immuno-compromised badasses.
Instagram: @phonesoap
Value: $60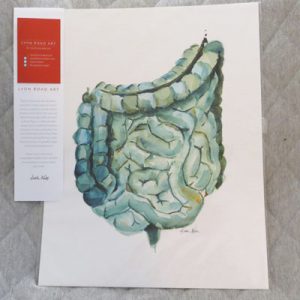 Anatomy and art come together in this gorgeous watercolor depiction of the large and small intestines. Our guts have never looked so good, not even on our best colonoscopy. Artwork is 11×14″, unframed.
Instagram: @lyonroadart
Value: $45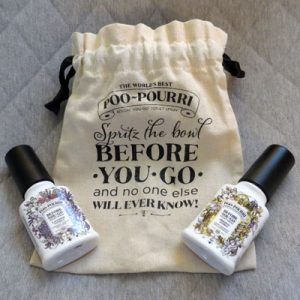 Poo-Pourri is the spray-before-you-go scent reducer, that uses a film on top of the toilet water to trap scents, keeping your own bathroom pleasant, and your public bm's discreet. Prize pack includes 2 spray bottles in a graphic gift sack.
Instagram: @poopourri
Value: $10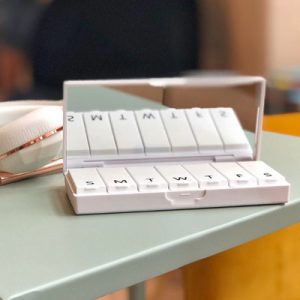 Port and Polish understands that it's ok to hold onto style, even when managing chronic diseases such as IBD. This Crisp White pill case has a super sleek design and built in mirror, to fit into your backpack, purse, and lifestyle with ease.
Instagram: @portandpolish
Value: $40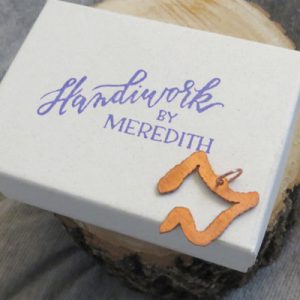 Meredith Flynn is a journeyman engraver who is also a caregiver to an IBD patient. She custom made this intestines pendant just for this giveaway! This is a one of a kind piece that we almost wanted to keep for ourselves.
Instagram: @handiworkbymeredith
Value: $40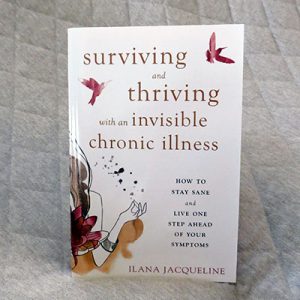 Our friend Ilana Jacqueline offers practical, funny, and real advice on making it through this thing we call life with an invisible, chronic disease – or several of them. A must-read for any human chronic illness patient.
Instagram: @ilana_jacqueline
Value: $17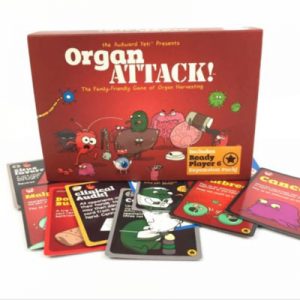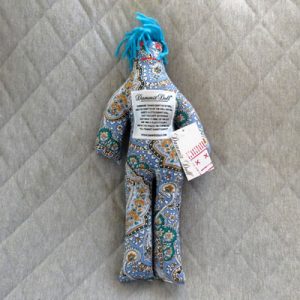 Dammit Dolls are designed to be beatup, thrown, poked, punched, and whatever else you need to do to get some stress out. A fun pattern and made-to-take-a-beating material is about to become your new best friend.
Instagram: @dammitdolls
Value: $20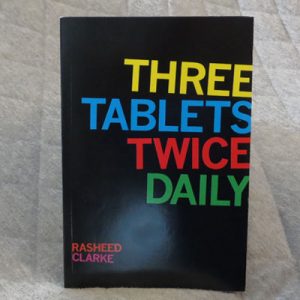 Our friend Rasheed Clarke is an Ulcerative Colitis advocate and author who put together a collection of stories about life with UC, among everything else. A superb writing style makes his experience easy to digest, pun intended.
Instagram: @rasheedclarke
Value: $20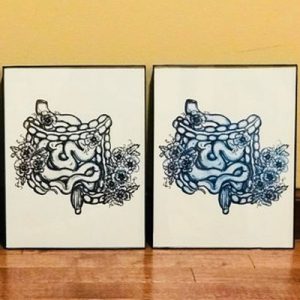 We're obsessed with these modern prints of intestines by Forget Me Not Drawings, combining guts and flowers and making both beautiful. Prize includes 2 prints in blue and black. Prints are unframed.
Etsy: Forgetmenotdrawings
Value: $32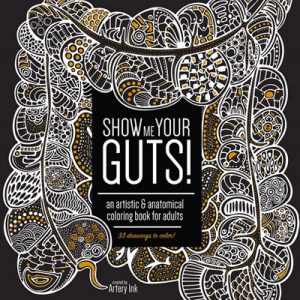 Adult coloring books have become a staple in the stress relieving game. This intestines-themed book has detailed, decorated illustrations of gut-related images for you to color and relax.
Instagram: @arteryink
Value: $22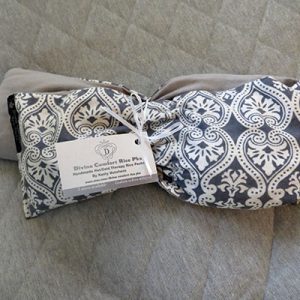 This rice-filled heating pack stretches out to provide soothing comfort to your neck, back, or anywhere else you might need. Simply microwave and apply for light pain relief. This heating pack is unscented.
Etsy: Divinecomfortricepks
Value: $13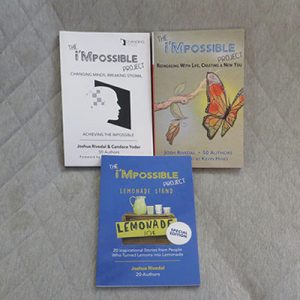 Our friend Josh Rivedal put together an anthology of stories of patients, both physical and mental, who tell their stories in real, gritty, yet hopeful ways. Compared to Chicken Soup for the Soul, the stories in these books are the exact dose we all need for a little inspiration without the fluff.
Instagram: @joshrivedal
Value: $35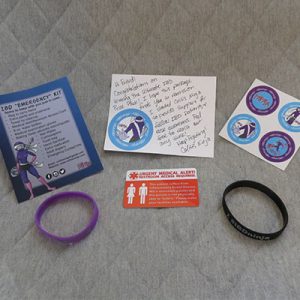 Our friend Amber Elder created the Colitis Ninja character illustration to help herself – and all of us – to both understand and communicate the ins and outs of IBD. This prize pack includes wristbands, stickers, and a bathroom access card.
Instagram: @colitisninja
Value: $12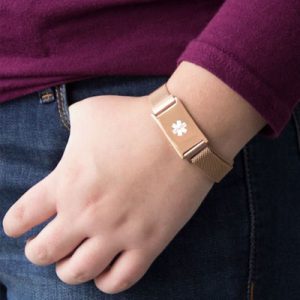 Medical ID bands are important to have on us, but that doesn't mean they have to be boring. Lauren's Hope creates fashionable, customizable ID bands. Prize includes assorted generic bands, and a code to choose your own. Please note, photo shown is not actual prize.
Instagram: @laurenshopeid
Value: $20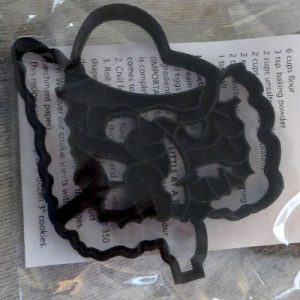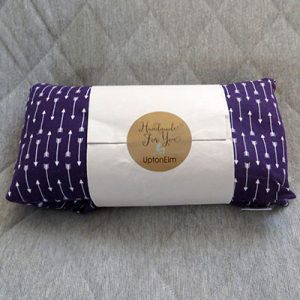 This adorable, soft heating (and cooling!) pack has three sections of grains, easily microwaveable to provide gentle heat relief. Microwave or put in the freezer and apply to your body, wherever you may need!
Instagram: @uptonelm
Value: $21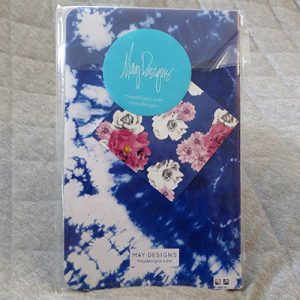 Writing is a therapeutic tool to many of us living with chronic illness. This May Designs journal fits easily wherever you go, so you can jot down your thoughts when you need to get them out of your head. Journal design is dark blue tye-dye pattern.
Instagram: @maydesigns
Value: $25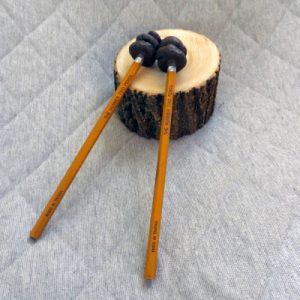 Write in your journal with these punny Number Two pencils, which are, well, number two pencils with poop emoji erasers. What better way to put your story down on paper?
Value: $6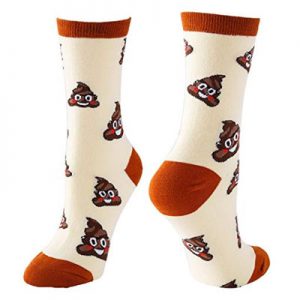 Who doesn't need all the poop emoji apparel they can handle? These fun socks are representing what's definitely become our number one (number two?!) used emoji.
Value: $10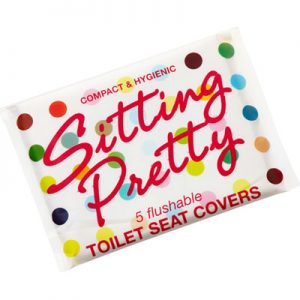 This perfectly sized travel pack fits in your bag, so you always have toilet seat covers available in any situation. Seat covers are slim and flushable. Pack contains 5 covers.
Value: $2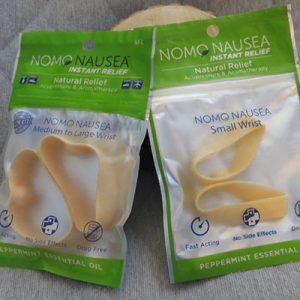 Nausea is unfortunately a part of the disease experience for many IBD patients like us. These peppermint scented bands allow wearers to have a light aroma of a naturally soothing scent.
Instagram: @nomonausea
Value: $13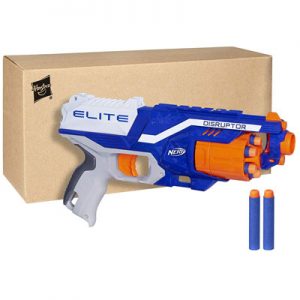 Because sometimes, you just need another way to get out your frustrations, and who doesn't love a good Nerf Blaster? Play with your friends, or pack it in your hospital bag for when you need a little fun distraction.
Instagram: @nerf
Value: $10
Winners will be chosen by random generator on December 21, 2018.
This sweepstakes is presented by The Great Bowel Movement. Prizes have been donated by vendors, or provided by The Great Bowel Movement. The contest is not sponsored in any way by prize donors, nor is it sponsored by Facebook, Instagram, Twitter, or any other social media channel. The grand prize has a value of $536 and is not exchangeable for cash value or other prizes. Two second place prizes are worth $50 each in gift card format ad are not exchangeable for cash value or other prizes. Winners are chosen randomly from qualified entries. Winners must provide accurate contact information at the form provided on this page. Any contact information will remain property of The Great Bowel Movement and will not be shared or sold. Winners must be 18 years old and residents of the USA. No purchase is necessary to gain entry. Winners are only eligible to receive one prize.  Grand prize pack will be shipped thereafter. Second place gift cards will be delivered electronically unless otherwise requested.
Please contact us at info@thegreatbowelmovement.org for any questions.