From the Hospital to the Big Screen: Derek and the 'Crohnie' Movie
A conversation with Derek Mari
---
Recently, we had the chance to chat with Derek Mari about his diagnosis of Crohn's disease, why he fights so hard against stigma and shame, and how he's bringing this story (hopefully) to a really, really large audience – through a full-length film. Follow along with what he had to share:
GBM: Let's start at the very beginning – your diagnosis story.
Derek: I grew up in Modesto, CA, and was originally diagnosed with ulcerative colitis at the age of 15. It happened after about a year of dealing with symptoms, and so so much Tylenol.
Although I finally received that diagnosis, it still felt like a mystery. I didn't really understand the problem, only that I was in a ton of pain and wanted it to stop.
I eventually moved to Los Angeles to go to film school, and I started seeing a gastroenterologist at UCLA. My diagnosis was then changed to Crohn's Disease, and they began treatments. Now, I'm on Remicade infusions and have been healthy and in remission for the past few years.
GBM: Wow, right in the middle of high school. That's a tough age. How did you manage?
Derek: Definitely a weird age to be dealing with IBD. I was still trying to figure myself out like many high schoolers. The last thing I wanted to be dealing with was digestive issues. It was really embarrassing. I didn't really tell anyone about it other than family.
I've always been an open book and find a lot of healing through talking with others, but I didn't want IBD to be something I was open about. I kept it pretty hidden until adulthood. There I was much more open. Looking back, I would have embarked on that journey sooner! I feel so relieved now to embrace IBD as a part of me.
I'd definitely encourage high schoolers going through something similar to connect with the Crohn's and Colitis community online. That's another thing I didn't have at 15. I had one friend with Crohn's, and that was a huge friendship for me. Making friends now who understand the struggle is a nice way to practice lowering those walls and letting people in. I wish I had realized sooner how the act of that also encourages/empowers others to do the same.
GBM: That journey from embarrassment to openness is something many of us can relate to. So many in our community are somewhere on that path. 
Derek: Oh, yes. I was the kid who was very picky about what he ate, or the kid who had to leave the sleepover early in the middle of the night because he was doubled over in pain (relatable, right?). It was more the shame of being different – more that than anything else. But in retrospect, I think those differences were actually strengths.
GBM: Definitely. What a great transformation. How did you overcome that shame and really find the strength?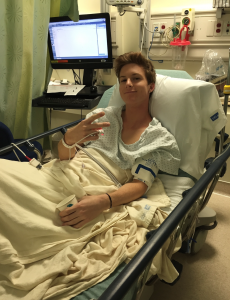 Derek: In 2018, I got very sick. I was in the hospital for a week, and that was the breaking point for me. With nothing but my laptop, I started writing about my experiences with Crohn's, and tried to find humor and levity in the daily struggles.
With a background in comedy, this wasn't too foreign to me, but it was the first time I touched the topic of invisible illness. I started putting my own struggles with stigma into a screenplay and called it "Crohnie". At first, it was just a challenge for me to tackle the stigma and make sense of my disease. But after sharing it with friends and colleagues and receiving positive responses, I suddenly had the vehicle to discuss my personal experiences with others.
GBM: We love that. We love every time a patient finds their voice and gets a positive response. Tell us more about how people reacted.
Derek: Definitely. I started receiving messages from friends/co-workers/classmates etc. telling me that they also had some form of IBD. Seeing me implement my story into art encouraged them to also open up about their personal stories, and it was really exciting for me to find these new connections. I feel very grateful for the support I've received over the years, that's made me feel less like an outsider, and more just like anyone else. I think we've all had something in our lives that we once tried to hide, and that's what really makes it a universal human story.
That's made me feel less like an outsider, and more just like anyone else. I think we've all had something in our lives that we once tried to hide, and that's what really makes it a universal human story.
GBM: So true. That's really in line with our own mission to help every single patient find the power of their own voice, and get more real, personal stories out there, without stigma. What advice would you tell others who are working to find their voice?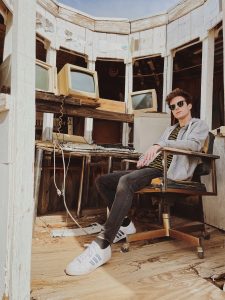 Derek: My advice is…Talk about it! Make jokes about it. Connect with others who understand! Make a blog! Make a video! Write a poem! Do some stand-up comedy! Whatever your art, hobby, or passion is, feel the freedom to implement yourself (IBD included) into it.
Even if it's for your eyes only, you'll stop believing what the stigma has all taught us to believe.
GBM: Tell us about your approach to storytelling, and how it helps you communicate about IBD.
Derek: I think finding a story or a character in a film or television show that you can relate to is so incredibly powerful, especially when you once felt unseen. Growing up as an aspiring filmmaker, I remember searching the web for a movie or TV show that featured a character with Crohn's. I felt like it would help me resolve some anxiety about feeling like an outsider if I could see a character with my unique struggles, yet who still triumphs.
This is just like how a child of divorce could feel seen after watching E.T. or how a green cartoon man could feel seen after watching Jim Carrey's The Mask. (relatable again, right?) Conveying the idea that 'you're not alone' is why I'm so attracted to storytelling.
GBM: We heard you're turning your "Crohnie" screenplay into a film! What do we need to know?!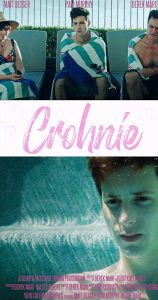 Derek: Yes! "Crohnie" is the screenplay I mentioned and it's currently in development to shoot later this year. I directed a short film as a proof-of-concept in early 2019, with Matt Besser of Upright Citizens Brigade (UCB), Parks & Rec, and more, and Pam Murphy from Crazy Ex-Girlfriend. The short performed really well and gave us the momentum to pursue the feature-length film.
We're currently crowdfunding to raise our total budget. People can support us at: www.wefunder.com/crohnie and follow our social channels to stay updated on our progress. We're not just telling my story, we're telling all our stories.
Follow Crohnie on:
www.instagram.com/crohniemovie
---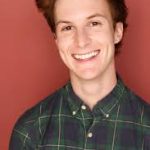 Derek Mari is an LA-based comedy writer and director. He can be found writing/performing sketch and improv at the Upright Citizens Brigade, directing narrative films, music videos, and sketch comedy for the internet (derekmari.com), further humiliating himself on Twitter/Instagram (@directorderek), or ordering an iced coffee at literally any Starbucks in Los Angeles.