Adventures With An Ostomy
Guest Post by Abbey Corbett
---
Life.
Life. It's a beautiful thing. It's unpredictable. It's exciting. It's maddening. It can change in the blink of an eye. 
The year was 2009. I was sitting with one of my roommates at college when something caught my eye on the muted TV screen. It was a photo of a stunning young woman in a black bikini confidently showing off her ostomy bag.
I was immediately drawn to the story because as someone who had been diagnosed with Crohn's disease at the age of 8, I knew that a bag was almost guaranteed to be in my future. When I pictured it though, I pictured it 20, maybe 30 years in the future after I'd been married and maybe had a few children. After I had been able to get as much out of life as possible.
Sudden Turns When You're Not Ready
Fast forward 8 years later, I found myself sitting in my doctor's office with my husband hearing the diagnosis I knew was bound to happen, just not then.
Just not then. Not at the age of 28 and less than a year after my wedding. Not before we were able to even try to have any children. Not before we felt like we had been fully able to enjoy being married and go on all of the adventures we had dreamed about.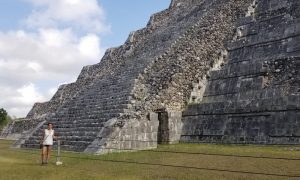 Needless to say, as much as I had mentally prepared myself for this outcome, I wasn't ready. I was sad and angry and terrified at what this meant not only for me but for my marriage. I didn't know what my life would be like after getting my bag but I kept thinking back to that woman in the black bikini and hoping that I would feel as confident and look as great as she did and that we would be able to somehow still be able to have the life of adventure we wanted.
Four months later, I got home from the hospital to start my new colon-free life. It was not easy. My recovery had complications that kept me in the hospital longer than expected and even made the first few weeks at home more difficult than planned and I couldn't seem to find a bag that wouldn't leak.
I was frustrated, to say the least. I knew I had to be patient and be kind to myself. As hard as it was to not get angry and fear the worst, I knew I had to take it one step at a time. 
Learning to Navigate a New Path
So, I started getting my strength back, tested bag after bag until I found one that wouldn't leak and was comfortable for me, and focused on appreciating the fact that I was getting a second chance at life. A second chance that not everyone gets, and I was not going to let it slip by.
As the months went by and my body healed and I got used to my bag, I was able to start seeing the beautiful life changes I was going through. I found myself able to fully enjoy things that were a struggle before my bag, like going to the zoo, taking day trips into the city, and be in a car for longer than an hour all without worrying about needing the bathroom.
My husband even took me shopping so I too could find that swimsuit that made me feel beautiful and confident.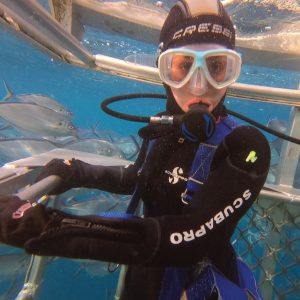 That instinct I had developed over 20 years to find the nearest bathroom wherever I went was no longer a necessity. I didn't have the constant pain I had lived with for so long. A life free of pain. It was a very eye-opening and beautiful thing to experience. 
The New Life I Was Given
Cut to a few months later, on my 29th birthday. My husband surprised me with a trip to Africa. It had been my biggest dream, but a dream I never thought would happen thanks to my Crohn's. He told me, since I was healthy for the first time in my life, we were going to treat this birthday like it was my first in honor of the new life I was given. 
Since then, we have traveled the globe, checked off bucket list items, visited wonders of the world, and taken advantage of every opportunity to experience life the way I hadn't been able to before. 
I've walked with lions, ridden elephants, swam with great whites, climbed mountains, and gone scuba diving. All with and because of my ostomy. I wanted a life of adventure and new experiences but never thought I could with my Crohn's. All of that changed once I got my bag.
My ostomy actually makes me crave adventure even more because I know I can do it now and I love being able to show others what you can do with a bag. 
It does not have to hinder you from doing anything but can actually allow you to do everything! 
While many fear that an ostomy means the end, I am here to tell you that it doesn't have to be. It can be the beginning.
The beginning of not only a healthy life, but a beautiful one full of love and adventures beyond anything living with an IBD. You just have to believe in yourself, be kind to yourself, be patient, and appreciate what your bag can give you—life. Because it truly is beautiful.
---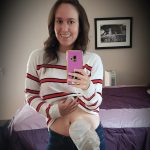 Abbey Corbett lives in the metro Chicago area with her husband and very good dog, Dustin. Her hobbies include traveling, obviously, as well as drawing, reading and watching movies.
You can connect with Abbey on Instagram @abbeyostomy1016